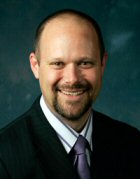 Hi, my name is Jay Underwood and I am the pastor/teacher here at First Baptist Church in Weaverville, CA.  Let me take this opportunity to tell you briefly a little bit about myself.  My story as a youngster is like many whereas I grew up going to church and heavily involved in youth activities but never had that saving relationship with Jesus Christ.  It wasn't until around 1995 that I truly was saved while attending Calvary Bible Church in Burbank, CA.  It was the first time I really understood my sin nature – that I was a sinner whose consequence would be eternal hell were it not for the saving grace of Jesus Christ and His work on the cross.  Praise God that he saved both me and my wife, Julie, at the same time.
My career, until about 2006, was that of an actor in movies and television.
From childhood on, it was all I ever remember wanting to do and God had blessed me with enough work throughout the years to be able to make my living doing it.  In my mind, I was living out my dream and yet there were also many low periods throughout and I would often find myself getting discouraged and wondering if a career in the entertainment industry was really what life was all about.  Then of course I got saved and everything started to change.
As my Christian faith grew, I saw how this started affecting my career.  I had waning interest in so many of the parts and projects I was being asked to audition for.  It seemed there wasn't much out there by way of movies or TV shows that would bring glory to God (1 Cor. 10:31) and so I found myself wondering if it wasn't maybe time to get out of the entertainment industry altogether.  That turned out to be the truth of the situation but never in my wildest dreams did I ever think God would redirect my heart and steps to guide me into full-time Christian ministry.
Once I knew in 2003 that God was indeed calling me into this extraordinary vocation, I also realized my need for more knowledge.  I wanted to learn the Bible and everything I could to prepare me for ministry.  To this end, God opened up the doors for me to attend the Master's Seminary in Sun Valley, CA.  The seminary shares the campus with Grace Community Church where John MacArthur has pastored for the last 30 plus years.  MacArthur also serves as the seminary's president.  The Master's Seminary gave me exactly the kind of Bible training I needed to be able to accurately handle the word of truth (2 Tim. 2:15) and to shepherd the flock of God (1 Pet. 5:2).
As for my own ministry experience, prior to seminary I had sung in the church choir for a few years at Calvary Bible and then transitioned into teaching in the children's ministry. During seminary, I became the Jr. High pastor, which did much for my continuing ministry education.  I found I had a heart not only for the youth that I had been involved with but also for preaching and teaching the Bible as well as shepherding God's people, whether they be youth or adults.
How did I end up going from Burbank to Weaverville, you ask?  Well, as I was winding down my last semester of seminary in the spring of 2007, I applied, interviewed for and was called by the church body for the pastor position of the First Baptist Church here in Weaverville.  So I finished school, graduated in May 07, and relocated my wife and three children from 'beautiful downtown Burbank' to the spectacular Trinity Alps and have been loving every minute of it.
My desire as pastor/teacher here at FBCW is to preach the word (2 Tim. 4:2) and shepherd God's people so that they will know that it's the gospel that saves (Rom. 1:16; 1 Cor. 15:3-4), that they would grow in the grace and knowledge of our Lord and Savior Jesus Christ (2 Pet. 3:18)," that they may be found "complete in Christ (Col. 1:28)," and that their desire would be to "Go therefore and make disciples of all the nations, baptizing them in the name of the Father and the Son and the Holy Spirit, teaching them to observe all that I commanded you…(Matt. 28:19-20)."  Yes, the challenges of ministry are many, but the eternal joys are incomparable!  Glory be to God!